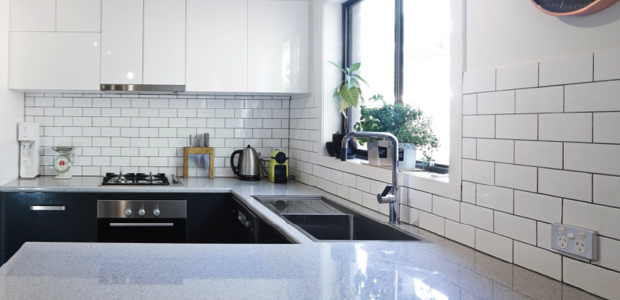 Classic, clean white subway tile has been a top kitchen and bath trend for years.
Sometimes, even the classics demand a refresh. And subway tile — long favored for its practicality and clean aesthetic — is no exception. With a renewed emphasis on color, pattern and texture in 2017, we're seeing some departure from the simpler subway tile looks we've come to know and love. This year, designers and homeowners are gravitating toward bigger, bolder tile options —and even putting some new twists on the old subway tile classics.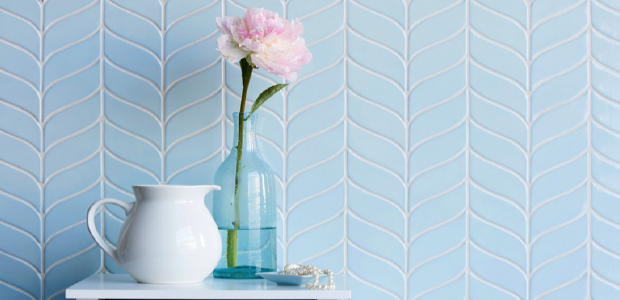 Walker Zanger's 6th Avenue line features a wide selection of shapes, moldings and mosaics — from floor-ready hexagons to modern, organic inspired shapes. Pictured: Curved Chevron Mosaic in Ice Blue.
A New Twist on an Old Classic
"Subway tile will always have a niche in the design market," says Jared Becker, vice president of design and marketing at Walker Zanger, "but now we're seeing designers utilize texture, color and unique glazes for an elevated subway aesthetic."
Walker Zanger's 6th Avenue collection can be installed in bright colors such as Grass, for example, to create a vibrant backsplash that draws attention to the space without seeming overwhelming. And the designs "Wave" and "Otto" from Walker Zanger's Robert A.M. Stern Collection add new shapes and textures so that homeowners can feature a classic subway tile look with a twist.
"Subway tile is timeless," agrees DeeDee Gundberg, ANN SACKS' director of product development. "But we encourage our clients to get creative with color and texture so that they have something a little different; a bit more special, but still safe."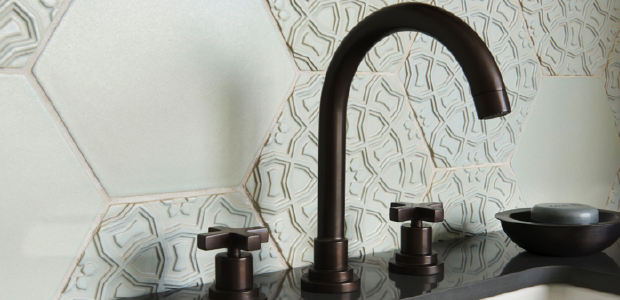 Large-format hexagon tiles, like these found in Walker Zanger's new glazed terra cotta collection, Andalucia, are growing in popularity.
Large-Format Wall Tiles
Bigger is better when it comes to wall tile. This year, designers are ditching standard sizes in favor of larger planks and slabs. And, they're citing easier maintenance, elongated spaces and a more dramatic aesthetic as their reasons for making the switch. "Format is changing," says Gundberg. "Long and thin is more popular than the standard 3″x 6."
"One trend highlights large-format hexagons, which provide a visual platform to display modern aesthetic through detailed geometric pattern," says Becker. What's more, "by using flat and textured tile in tandem, the layered patterns create a balance between delicate filigree-like details and larger-scale tile to create a timeless, traditional look in a fresh modern shape."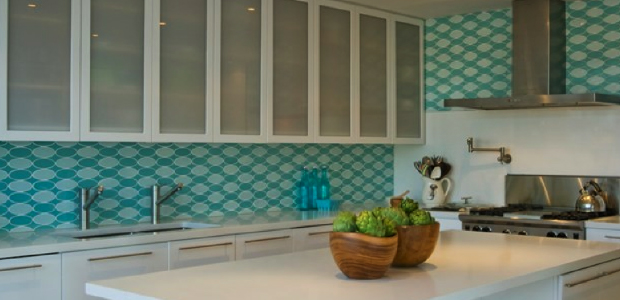 ANN SACKS' Gotham field tiles in esther and tropic add a pop of color and pattern to this otherwise all-white kitchen.
Bold Colors and Patterns
Vibrant colors and bold pattern options are one the rise, allowing homeowners greater freedom to express themselves in their tile designs. "We're seeing designers move away from classic white and more so toward bold colors for their custom design spaces," says Becker. "White isn't necessarily out of style, but homeowners are often looking for ways to create an eye-catching accent within their space, and they are doing so through refreshingly unique colorways."
"The look of the all-white kitchen has definitely had its time," concurs Sally Bennett, principal of Mirth Studio. "You can still use plain white Subway tile, but I see a lot of people wanting to put pattern on their backsplash to create a personalized focus wall — almost like artwork."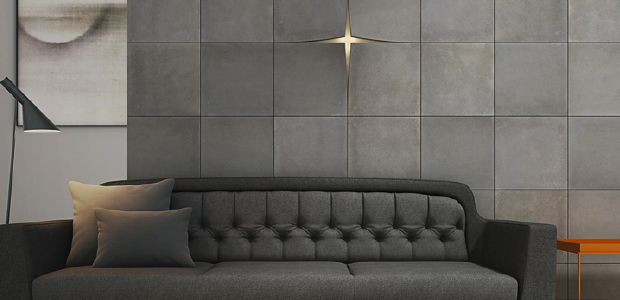 ANN SACKS' back-illuminated Itai Bar-On KWA 16" x 16" concrete tile creates a dramatic feature wall.
Texture, Dimension and Concrete:
More and more, designers are using texture and dimension to add visual interest to interior spaces. Done dramatically, this can create a feature wall or focal point, says Gundberg. Or, done in a more refined and subtle manner, it can create a beautifully neutral backdrop.
"Textured and dimensional tiles work wonderfully as showcased art in a home," adds Becker, "and we're seeing designers use them on a bold statement wall to give the room impact." Homeowners can use 3D concrete tile such as Walker Zanger's Kaza collection, for example, to create various patterns and color combinations that may not cover the entire wall but are instead designed to be on display like a home art gallery.
"Anything concrete is hot right now," agrees Gundberg. "This includes the encaustic style concrete with its bold, geometric patterning as well as molded concrete."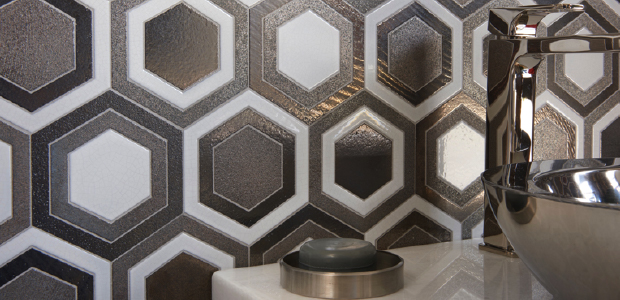 Walker Zanger's Stardust tile in Twilight Cosmos features twinkly silvers, deep-space blacks and heavenly whites in a sleek, modern pattern.
Tactile Metallic Mosaics
Some of the year's hottest mosaics pay homage to the art deco era, cosmic interfaces and 1970s glam. Think sophisticated tile with gold Gatsby-styled detailing; tributes to glam rock, foil wallpaper and mirrored surfaces; and all-out celestial themes. "We are seeing a definite trend toward using texture and metallic in design," says Becker. "With Walker Zanger's Stardust line, we fully embraced a modern aesthetic by using highly textured lava stone with a metallic glaze that accentuates the stone's tactile depth."
Metallic mosaics will add visual interest in any room. And, because you can find them in all shapes, colors and sizes, metallic mosaics lend themselves beautifully to the mixed materials trend — an eclectic, mix-and-match approach to interior design. "Stuffy and staid interiors are out, while relaxed and eclectic interiors are in," says Gundberg. "Mixing styles and genres allows you to bring in elements that you love and want to live with every day."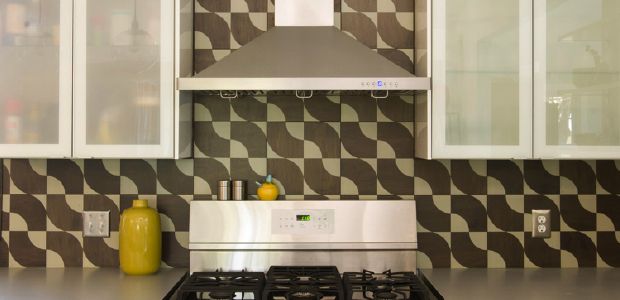 Mirth Studio's 12" x 12" Centro hardwood tile in ebony and cream creates a bold kitchen backsplash.
A Personal Touch
This year's tile styles offer a number of fresh and interesting options. But designers agree that choosing a tile you love is more important than choosing a tile that is topping the trends list. Here's their advice to you:
"Explore your options and then pick what you love, you'll be living with it for a while."
— DeeDee Gundberg, director of product development, ANN SACKS
"Follow your gut. If you really like something, it's going to work within the rest of the design. Your style will come out in the finished product. There's a big trend in eclectic decorating. Don't be afraid to make a statement; just go for it."
— Sally Bennett, principal, Mirth Studios
"It can be difficult to decide which tile to use during a remodel, so we suggest visiting a local showroom to see your options in person. Also, there are nonprofits such as our partner Renovation Angel that offer homeowners recycling and reclamation options during luxury residential remodels. By recycling through Renovation Angel, homeowners receive a full tax deduction as well as free, professional insured removal, pack and transport of products."
— Jared Becker, vice president of design and marketing at Walker Zanger
Source: Home Advisor