Today, children all over the world continue the tradition of hanging Christmas stockings. Kids of all nations look forward to Christmas, and when the stockings are hung, they know the most anticipated time of the year is not far behind. Many families create their own stockings with each family member's name applied to it so that Santa will know which stocking belongs to which family member.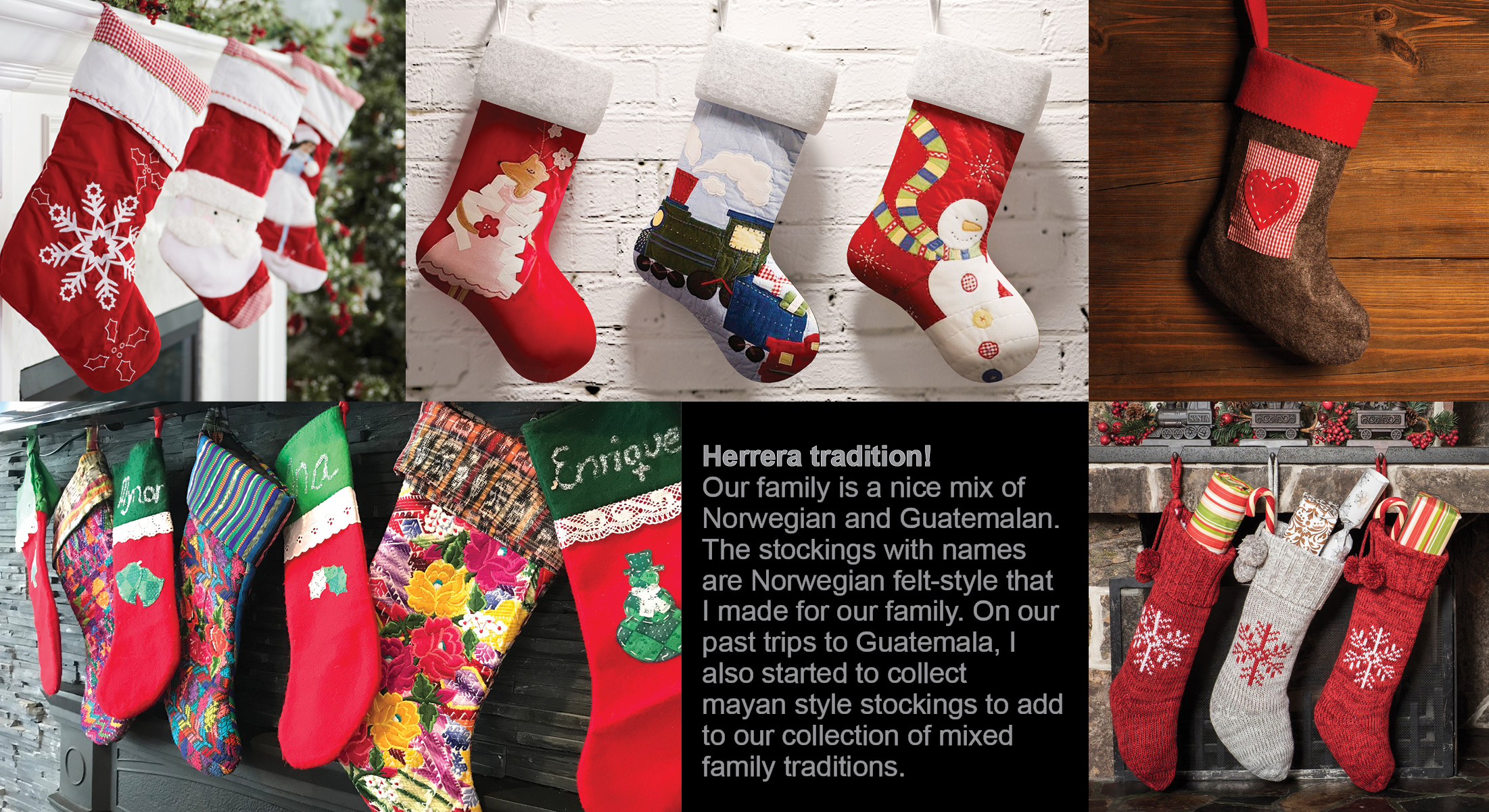 While there are no written records of the origin of the Christmas Stocking, there are popular legends that attempt to tell the history of this Christmas tradition.
One of the most interesting aspects of modern-day stocking stuffers is the individual practices passed down from generation to generation. In many places, the Christmas stocking is to be stuffed by a gift that will stimulate the five sensory organs. In my Norwegian family, we recieved an orange and raisons in our stockings.

Traditional celebrations of Christmas demand that the stockings be hung on the fireplace mantel. However, since many contemporary homes do not have fireplaces, stockings are hung in almost any location. In the last century, families experimented with the location, stocking stuffers, design and fabric. For those that want to venture away from the traditional placement above the fireplace, or for those that don't have a fireplace, here are some popular alternatives:
Cascading down a staircase
Hanging from a DIY mantel
On a painted or a rustic branch
Strung across an open wall
On decorative wall hooks
Over the window
The possibilities are endless
If you haven't bought your Christmas stockings yet, and are looking for that unique stocking this season, I would like to introduce you to www.stockingfactory.com
You can find the cowboy boot stocking you see in the above photo on this site. I had the pleasure to speak with the owner the site other day, and she told me the devastating story of Hurricane Irma that struck one of their warehouses and destroyed much of their inventory. For that reason also, it would be nice to support in small ways. After all Christmas is the season for giving.
If you have a creative way you hang your stockings, we would love to see a photo of your tradition on our Facebook post about this.
Ina Herrera
ASP® Stager & Manager of Creative ServicesMynor & Associates